What is Vision Benefit Plan vs. Medical Insurance?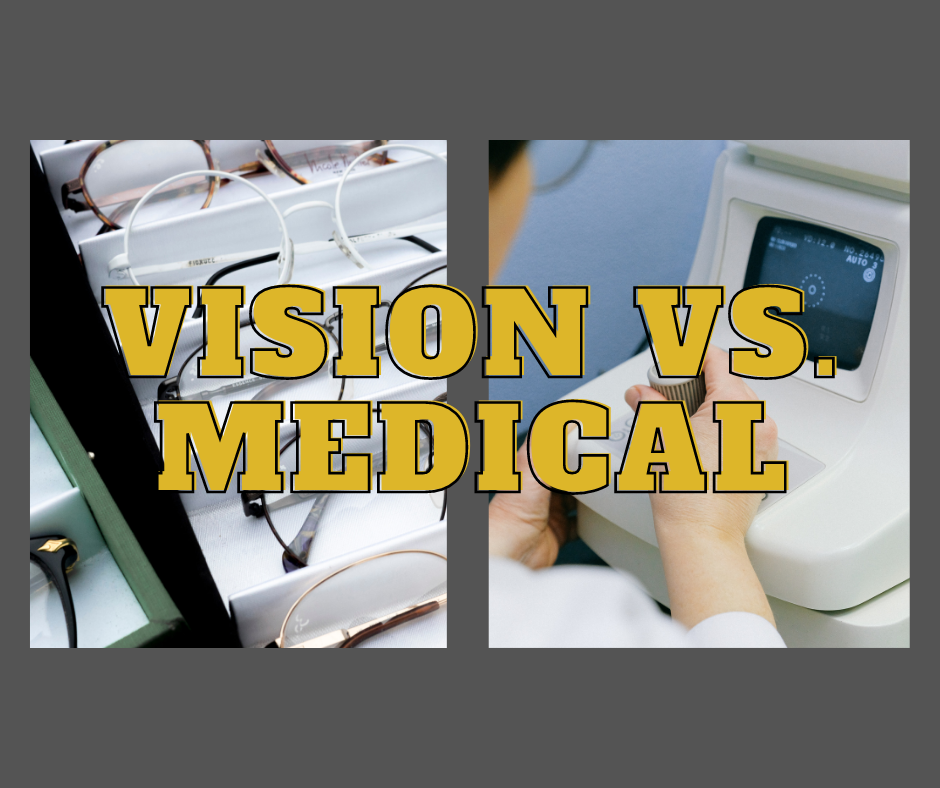 Medical insurance:
Medical insurance is used for all medical problems including disease of the eye such as dry eyes, infections, allergies, cataracts, glaucoma, and macular degeneration. For instance, if you needed cataract surgery, a vision plan would cover nothing but your medical insurance (Blue Cross Blue Shield, Medicare, Humana, Dakota Care, etc.) would.
Vision Benefit Plan:
Vision plans are designed to help pay for routine vision exams and provide discounts on glasses and contacts. They are not an insurance plan. Vision benefit plans can help with costs associated with a routine vision exam that isn't related to a medical problem. Vision benefit plans do not cover medical visits of any kind. Most vision benefit plans require providers to use the eyeglass lens labs owned by the vision benefit plan company. Our experience has been that the quality of these products can be very poor and we have no control over what you get. Many plans don't even cover the basic lenses in full. Patients usually end of paying for the plan and large copays on glasses and the exam. Additionally, you are charged for any add-ons such as no-glare treatment, Transitions (makes your lenses darken in the sun), higher quality progressive add lenses (no line bifocals), cosmetic tints, polarized lenses for sunglasses, thinner lighter lenses for high powers, and in many cases UV and scratch resistance treatments. When evaluating the out-of-pocket expense of the plan premiums, copays, and overages for add-on's, we've frequently found the costs exceeded the discounts and benefits you receive. Vision plans usually have a once per year or once every other year benefit on eyewear, yet you pay for the premium whether you use those benefits or not.
Why we take most Medical plans, but not Vision Plans
Our primary focus is preserving the health of your eyes. VSHS is a participating provider with most medical plans (check with your insurance plan to be sure). Eye disease managed with your annual exam or other medical visits are submittable to medical insurance, therefore making the vision plan benefit unnecessary.
What sets us apart
Our focus is to find the best quality products at the best price without outside influence. Quality and functionality of lenses vary greatly and are difficult for the average consumer to compare. At VSHS we offer quality products, with a 2-year warranty on the lenses and the frame and a 60-day prescription guarantee. We offer free cleaning and adjustments to our patients. We have a wide selection of frames. In regard to services, Dr. Wilkinson is one of 3 board-certified optometrists in South Dakota, which requires ongoing education and clinical examinations. He has over 20 years of experience, is very competent and keeps up with the latest in eye care. He is comprehensive in his care and can explain things to patients in a very easy to understand way.  Dr. Wilkinson also requires his staff to be certified paraoptometrics.  This also requires ongoing education for the staff members.
What can patients do if we don't take their vision plan
You may be able to submit services for the routine exam and eyewear to your vision plan for out of network benefits. Check with your vision plan provider for these benefits. You are always welcome to take your prescription to a provider that is in your network.