Outstanding Optometrist
HERO AWARD
October 12, 2019 –  Congrats to Dr Wilkinson on the first ever Hero Award given by
Southern Black Hills REALTORS For Kids in recognition for the free Eyecare provided to children.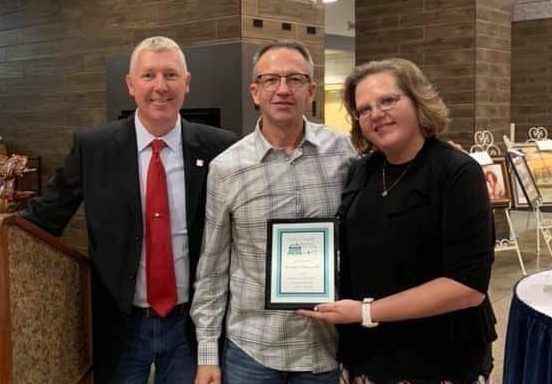 Dr. Dallas Wilkinson is now Diplomate, American Board of Optometry!
December 18, 2012 ST. LOUIS – Dr. Dallas C. Wilkinson, of Vision Source in Hot Springs, was one of the first optometrists in the nation and the first in SD to become board certified by the American Board of Optometry (ABO). Dr. Wilkinson passed the ABO's Board Certification Examination administered in July 2012. To attain this honor, Dr. Wilkinson completed an accredited residency or a series of rigorous post-graduate activities. He then passed a challenging computer based examination on issues spanning the scope of practice of optometry.
Dr. Wilkinson has enrolled in the ABO's Maintenance of Certification program. The 10-year maintenance of certification process is designed to allow the doctor of optometry to demonstrate that he is dedicated to keeping current in the field of optometry and delivering quality patient care. "We extend congratulations to the group of optometrists who have taken the first step in demonstrating their commitment to lifelong learning," said Paul C. Ajamian, O.D., ABO chairman of the board. For more information, or to schedule an appointment with Dr. Wilkinson, call Vision Source-Hot Springs at 745-3175.
Dr. Dallas Wilkinson goes to Domincan Republic for VOSH Mission Trip June 2011
The mission was team of 14 people with 3 optometrists, 1 family practice physician and 1 nurse practitioner. We saw 850 patients in 5 days. The trip was to Azua, Dominican Republic from June 4 through June 11. It was a VOSH mission that was hosted by the Lions Club of Asua. We referred 34 people for cataract surgery, began treatment on and referred 12 people for glaucoma. We made up and sent back to Dominican Republic 14 pairs of glasses for people with exceptional glasses needs. The remaining glasses were provided by Lions Clubs of the United States, of which we dispensed 685 pairs. We dispensed 84 bottles of glaucoma medicine, 115 bottles of allergy medicine and about 100 bottles of artificial tears. We also dispensed about 500 pairs of sunglasses. The Lions Club of Azua housed each of the team members with Lions Club families for the week. They fed us and provided transportation during the week. At each of our clinic sites they made sure we had a generator for power as electricity is either not consistent or not available at all. In addition to our mission there were 5 people that set up a fresh water purification system that came with our team. This system produces about 250 gallons of purified water per day.